It's still not clear how much that new money will impact lawyers' pay, said the president of Criminal Defence Lawyers' Association
Article content
Defence lawyers are hailing a $40.3-million increase in legal aid funding in a package that also includes more money to hire Crown prosecutors.
Article content
That funding contained in the 2023-24 Alberta budget unveiled Feb. 28 also includes $20.2 million to address a backlog of cases and $4.6 million to hire 16 more Crown prosecutors, Justice Minister Tyler Shandro said Friday.
Article content
"By increasing investment in legal aid, civil Crown counsel and Crown prosecutors, we're strengthening the justice system, making it more accessible and more reliable to Albertans," said Shandro.
"This funding increase would ensure Albertans accessing legal aid will be able to access a strong roster of lawyers. This funding will confirm the rate roster lawyers are paid reflects current court processes and legal practices, and that compensation and lawyer efforts are properly matched."
Article content
Legal aid rates have jumped 35 per cent since October 2022
The funding comes after Alberta's criminal lawyers last December ended five months of job action that included refusing to take on legal aid certificates in protest of what they called underfunding that affected their pay.
The province had earlier increased the hourly pay lawyers earn on legal aid certificates from $92.40 to $100 in October, an 8.225 per cent increase made possible by a federal government funding boost.
The new December rate was $125 per hour. The two combined bumps amount to a more than 35 per cent increase in the rate from earlier in the year.
The $40.3 million that comes on top of that is welcome and sorely needed, said Ian Savage, president of the Criminal Defence Lawyers' Association.
Article content
"It's absolutely essential and overdue," said Savage.
Unclear whether funding will go toward increasing lawyers' pay
It's not clear how much that new money will affect lawyers' pay, Savage said, and it might simply make up for cuts the UCP government made in response to reduced court cases during the pandemic.
"In real terms and factoring in inflation, it could be catching us up to where we were six years ago," he said.
Criminal lawyers are also still seeking answers on modernizing and itemizing their pay scale, and hoping to see a lower threshold eligibility for legal aid, said Savage.
"Too many people are still falling through the cracks due to a high eligibility barrier," he said.
On Friday, Shandro said the funding will increase the availability of legal aid service for all Albertans.
Article content
"We're upholding an individual's right to have access to a public system of courts and tribunals, and to protect their rights and freedoms," he said, adding his ministry will continue working with defence lawyers on outstanding issues.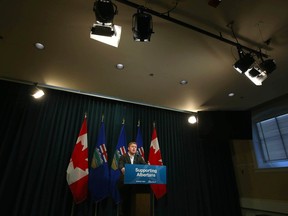 The 16 new Crown prosecutors will help streamline the justice process by ensuring priority cases move through the system, said Shandro.
"This is a system that helps to ensure only strong cases move forward . . . pre-charge assessment results in a focus on the more viable charges, including those considered to be serious and violent," he said.
"It will create efficiencies and reduce the burdens on the courts and all Albertans."
He said that approach has already reduced the number of charges entering the criminal justice system by 20 per cent.
Article content
Savage said it's a laudable goal, but a funding increase and extra prosecutors isn't a magic bullet.
"It's not an overnight solution," he said.
"There are still a large quantity of charges that have no business being laid — it's a long-term cultural change for police and prosecutors."
Province unveils firearms act targeting federal 'intrusions'

Legal Aid rates for Alberta lawyers gets 25 per cent hike
The UCP government's record of meddling in the justice system means it can't be to be trusted to fix it, said NDP Justice Critic Irfan Sabir.
"The UCP talks about fair equitable access to the justice system, but the premier has admitted to interfering in the prosecution of cases and the former Justice minister was fired for trying to interfere in the administration of justice," said Sabir.
Article content
"Today's announcement is nothing but a thinly veiled attempt to cover up four years of chaos, conflict, and incompetence under the UCP."
He was referring to Premier Danielle Smith's admission she'd discussed with justice department officials the suitability of charges against those involved with last year's Coutts border blockade, and then-justice minister Kaycee Madu's contacting Edmonton's chief of police over a distracted driving ticket in 2021.
Investment bolsters Alberta Firearms Act with new hires
In its recent budget, the UCP government also earmarked $15 million over the next two years to fund the efforts of its chief firearms officer.
Of that, $7 million will go toward hiring 40 new personnel who'll expedite legal firearms acquisitions and transfers under Bill 8, the Alberta Firearms Act, which the province hopes will also act as a barrier to a proposed federal gun buyback program it says targets lawful owners.
Article content
On Friday, Shandro said the investment will "protect Alberta's rights against federal intrusion on provincial jurisdiction."
The federal Liberal government points to repeated court rulings in favour of Ottawa's primacy in firearms law, calling Alberta's stance "reckless."
The minister said it remains to be seen how the fatal shootings on Thursday of Edmonton police constables Travis Jordan and Brett Ryan will affect the province's stance on gun control.
"I have no doubt we'll learn more in the coming days, weeks and months, but right now it would be premature and inappropriate to speculate," said Shandro.
"As the investigation completes, there'll be more than ample time to discuss all the factors that led to the tragedy and how public safety can be further enhanced."
— With files from Kevin Martin
BKaufmann@postmedia.com
Twitter: @BillKaufmannjrn