In small rooms at the back of the public library, or tucked away to the side of the local court, clients wait for the only free lawyer in town.
It will be a month before this lawyer from the Western New South Wales Community Legal Centre visits again, as part of outreach programs that cover 200,000 square kilometres stretching from Dubbo past Bourke and north to the Queensland border.
Nobody seems to think they will need this legal advice until they do; they take a loan from a bank to pay for a son's funeral and a conflict arises over repayments; their husband, from whom they have been long separated, refuses to sign divorce documents; they withdraw money from their superannuation and are scammed online; their employer folds, without paying what they are owed.
For the outreach program attended by Guardian Australia in May, lawyers travelled from their base in Dubbo on a 1,100km three-day loop through Nyngan, Cobar, Bourke, Brewarrina, Lightning Ridge and Walgett before heading home.
The trip came amid concerns about a funding shortfall within the Aboriginal Legal Service and broader unrest about whether the Albanese government will be able to afford the wholesale reform of the community legal sector it hoped to achieve in opposition, before harsh economic realities set in.
The outreach trip will also be the last for some time that is attended by a specialist family violence lawyer, as NSW government funding for that position ends on 30 June.
On the frontline
The community legal sector appears forever mired in near-existential crisis; the trip could have been at any time and there would have been a problem with resourcing.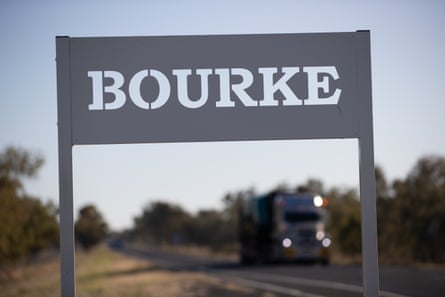 "That's always a constant reality that we're trying to battle and manage in terms of where we allocate resources," Patrick O'Callaghan, the Western NSW CLC principal solicitor, says. "The need has certainly always been out here in my 17 or so years at the legal centre.
"This region is well known for having high rates of disadvantage, which then manifests [itself] in different ways, including domestic violence.
"We've always been very conscious of wanting to be able to provide a service to meet those needs."
In Cobar, O'Callaghan met with Peter Griffiths, who says he has a long-running dispute with a bank about a loan that was taken out after the death of his son in a motorbike accident in Yea, Victoria, in 2005.
Griffiths says he needed money to pay for the funeral, and to get his son home. He says repayments were being made but a dispute later arose with the bank about the outstanding amount. He now owes about $10,000, and has been using O'Callaghan's team for more than two years to try and resolve it.
While Griffiths had initially hoped to be able to pay the debt, he no longer knows if he can.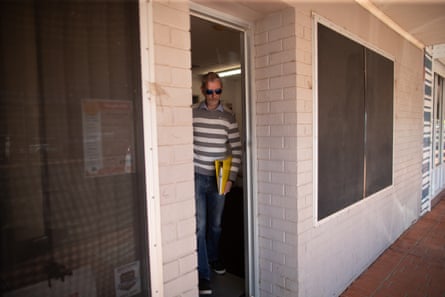 "I'm getting a bit light in funds now, I don't know if I could pay it off now," Griffiths says. "There's got to be a way around it."
O'Callaghan says the bank has been unusually combative in its dealings with Griffiths, including in refusing proposals to settle the debt, and he recommends to his client that the case is referred to the Australian Financial Complaints Authority.
Sucker-punched by debt
Community legal centres are increasingly seeing more clients like Griffiths: enormous increases in the cost of living means their existence is already fraught, but they then get sucker-punched by debt.
The federal budget did little to support the sector, according to the national organisation that supports community legal centres, and the focus is now upon securing a more beneficial national funding agreement between state and federal governments, known as the national legal assistance partnership, after the current plan expires in June next year.
A spokesperson for the attorney general, Mark Dreyfus, says an independent review of the agreement will start later this year.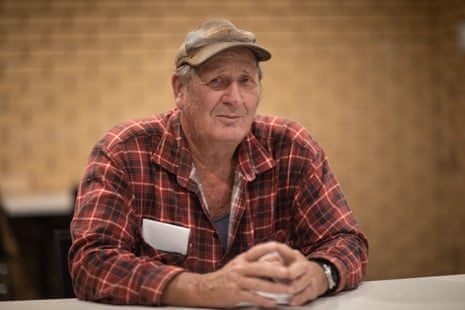 "The review is an opportunity to examine the adequacy of funding and ensure the legal assistance sector is best equipped to deal with current and future challenges."
O'Callaghan says any reform of the sector must consider the other pressures facing those who use it.
"There is just a growing difficulty for clients around being able to meet their living expenses in relation to especially, you know, essential services, electricity bills, gas bills, even water bills," O'Callaghan says.
"It's a really disappointing thing to see that just real fundamental basics that people need to be able to survive around electricity, water, heat is becoming a struggle for them to pay for."
The vanishing service
O'Callaghan is sitting in the passenger seat of a 4WD ute heading north between Cobar and Bourke.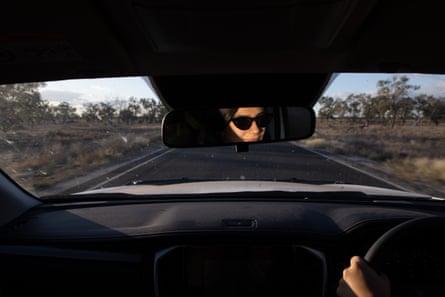 There are more goats on the road than cars.
Francesca Cutri, from the centre's domestic violence unit, Western Women's Legal Support, is behind the wheel. Blasting the horn shifts the goats, she reckons, but you have to be careful of emus who are known to lose their heads, and even run towards you.
This will be Cutri's last trip out west, and the last the centre thinks any domestic violence lawyer will take for some time. It has no funding to replace her.
The service will simply vanish, and domestic violence lawyers from the centre will stop visiting these towns once Cutri leaves.
"It's sad for me," Cutri says. "I get quite attached to my clients.
"Because you're there for such a personal part of their lives they get quite attached to you, particularly when they're in these remote communities."
The following day, in Bourke, Cutri breaks the news of her impending departure, and the cessation of outreach legal services, to Keren Barker, who manages the domestic violence program at Birrang, an Aboriginal community service provider.
Barker says the decision will make women and children less safe, because of the vital assistance Cutri provides them in applying for court orders, for example.
"I'm still in a little bit of shock that it's actually happening and this decision is being made," she says. "It's just ridiculous … because we need people on the ground.
"We link in with the Western Women's Legal Service very effectively and continuously, and it's just going to [have] such a negative impact on our clients and the other people who access … services remotely."
'Like Medicare for the justice system'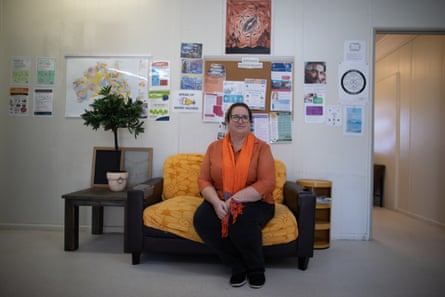 Further away from the Darling River, in the heritage-listed, federation-era court house, O'Callaghan meets with Greg Morris.
Morris is in a bind: he says he was scammed out of $26,000 by someone who claimed to have a Holden ute for sale on Gumtree. He twice withdrew money from his superannuation account to pay, but when he went to Dubbo to collect the ute in 2020, the seller never showed.
O'Callaghan is trying to work out what has happened with a police investigation into the scam, and whether the person responsible can be tracked down, and some money returned to Morris.
Morris says he lost his job because of the pandemic, and thought buying a ute was the best chance of getting another. He has not worked again since being scammed.
"I knew … I shouldn't dip into [superannuation] but it's probably the only way I can get that money to find a good car, you know?" Morris says.
After meeting with Morris, we head north to Brewarrina.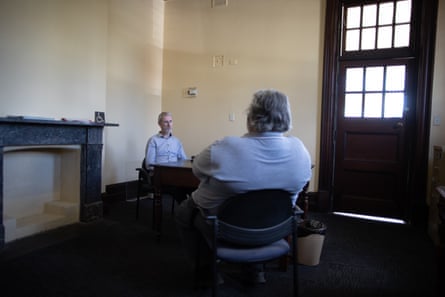 Cutri and O'Callaghan spend almost as much time driving as meeting clients on the trip. Little work can be done while travelling between towns, as phone reception usually drops out soon after the last house.
The service is not funded to represent clients in court, nor to assist those facing serious criminal charges, who can apply for support from legal aid.
What it is designed to do, O'Callaghan says, is to protect against further harm when those who most need help need a lawyer. He agrees with an analogy another community lawyer once used: that they are like Medicare for the justice system.
In Brewarrina, O'Callaghan catches up with two former clients, Gary Peterson and Neil Barker.
The pair previously worked for more than 20 years for a local service provider who collapsed. When it did, they were both owed between $10,000 and $15,000 in benefits.
The men had loved their jobs and believed in the work, but were then left unemployed and out of pocket.
"We lost our job, money got frozen," Peterson, a Barkandji man, says. "We were done for, more or less."
Barker, a Murrawarri and Ngemba man says: "It broke our hearts because we still wanted to be there, still working."
When they felt betrayed, it was important to be able to meet in person with O'Callaghan, even if it was only once a month.
"We dealt with the person that we could trust and know that they would do the right thing for us," Peterson says.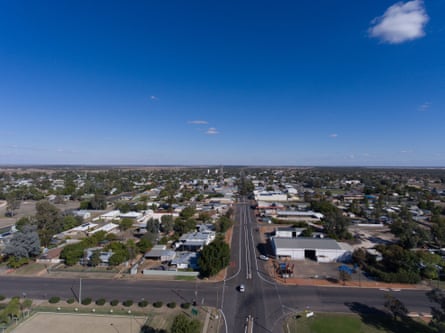 "Pat coming out … helped us a real lot.
"Our appreciation goes out to him, what he [has] done for us and we'll never forget it."
From Bourke we head north to Goodooga, then east towards Lightning Ridge. The sun is behind us, the shadow of our car stretching over the unmarked road.
The next morning, after both lawyers meet with clients, we head to Walgett, the final stop.
O'Callaghan meets with a Kamilaroi woman in a room of the Aboriginal Legal Service office on Fox Street, the town's main drag.
About 40% of the centre's clients are Aboriginal, and O'Callaghan says it ensures it acknowledges the traditional custodians of the country wherever it conducts outreach, as well as the Tubba-Gah people of the Wiradjuri Nation, the custodians of the land where the centre is based.
As a grandchild sleeps in a pram nearby, the woman, who does not wish to be named, speaks about seeking a divorce and the closure that she hopes will come with it.
"[My partner] will not come to the crunch of signing any paperwork or anything," she says. "[We've been] separated for almost nine years … I thought I'd better jump and do it now … before it gets too late."
Outside the window, the screech of a cockatoo pierces through the bustle of town.
"It's hard out here," the woman says.
She was asked, earlier in the process of seeking legal help, whether she wanted to speak to someone by phone.
"I'd rather see somebody in person," she says. "So I'm really pleased to see Pat today. And, yeah, we need more of it to happen."